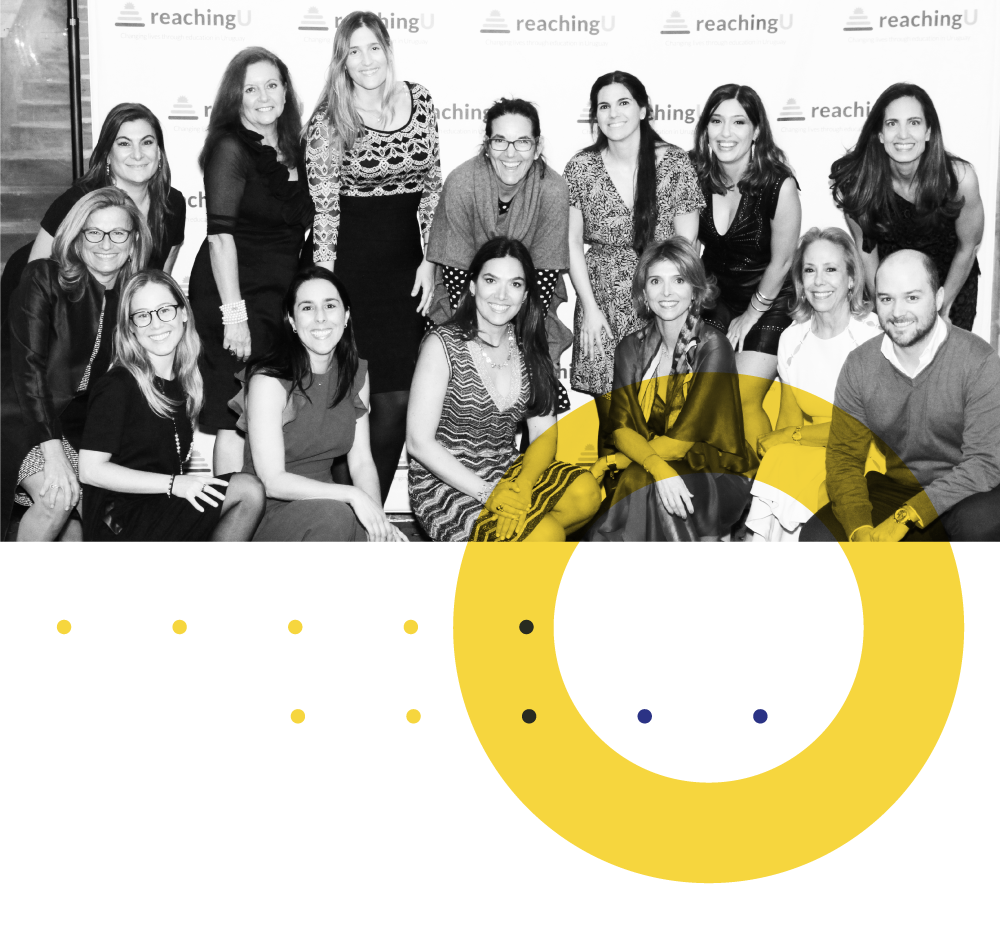 Fundación ReachingU is a transparent and pluralistic organization, made up of people of all ages, with different beliefs, political ideas, and creeds, who work selflessly to improve the education of the underprivileged in Uruguay.
¿What are the responsibilities of a Fundación ReachingU volunteer?
All Fundación ReachingU volunteers dedicate professional and personal skills, time and material resources to work for the organization. In addition, they help strengthen and expand contact networks, bringing new volunteers and donors
What areas do volunteers work in?
1- Programs:
Monitoring and follow-up
Evaluation
Linkages with organizations
2- Communication:
Support in the production of printed and digital material
Support in the production of videos
Contact with the media
Management of social media accounts
3- Fundraising:
Organization of fundraising events
Search for items for charity auctions
4-Other:
Providing the organization with legal and accounting advice
"My motivation is the vision of the organization, its constant search for new challenges/opportunities to improve the quality of life of Uruguayan children, the possibility of doing our share to give them a better future, and the excellent group of people with whom we work weekly.
I am fully convinced that the starting point of any change/development is education."
"What I value most about ReachingU is that it is continually built on the heart and soul effort and passion of the volunteers, the directors and a small highly qualified and devoted staff."
"The transparency and responsibility of the teams managing the funds and projects in Montevideo are also fundamental for me. I know firsthand the hard work accomplished by everyone, the impact of the implementation of the programs and their follow-up"
Montevideo 
URUGUAY
Carolina Secondo
Carmen Sanguinetti
Cecilia Bergengruen
Cecilia Orlando
Claudia Quercetti
Cristina Malde
Daniela Bianchi
Eliana Facal
Elisa Lieber
Federica Strauch
Florencia Martinelli
Florencia Seré
Inés Labat
Juan Ignacio Scasso
Macarena Castellanos
Magdalena Pol
María Castells
María Valdés
María Noel Coates
Martín Schimmel
Matías Bergengruen
Moema Lanfranco
Paola Magnano
Paulina Fernández
Rocío Lapitz
Tati Paz
Valentina Dabezies
Valentina Olivella
New York
UNITED STATES
Alexandra Weisz
Ana Bluth
Ana Laura Cooney
Anahí De Canio
Andrew Weisz
Cecilia Ott
Conce Olivera
Cristina Weisz
Denisse Stainfeld
Gaspar del Castillo
Gonzalo Bava
Gonzalo Varela
Helena Croce
José Luis Peña
Juan Torrado
Laura Torrado
Lucía Echenique Fossati
Luisa Sichero
Manuela Pereira
María García Fastoso
Natalia Toyos
Nina Wright
Rocío Raña
Sergio Serrato
Silvina García
Sofía Mannocci
Sylvia Gross
Miami
UNITED STATES
Blanca Bergengruen
Elena Chacón
Elisa Algorta Valeria
Gimena Pereyra
Guadalupe Martínez
María Eugenia Vilar del Valle
Matías Beyhaut
Milagros Varela
Pía Sojo
Pilar Mercader
Pilar Sánchez Varela
Rosario Lago
Victoria Ferres
Virginia Bocage
Washington DC
UNITED STATES
Alicia Bonicelli
Laura Olave
Lucía López
Verónica Alonso
Virginia Synder